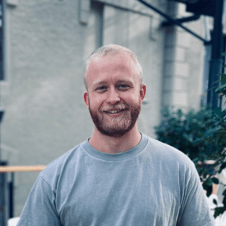 Milton Lönnroth
Co-Founder & CEO – Sales, Business Development & Administration
I founded Atley Solutions together with Emma Aneheim and Sture Lindegren in 2019. Since then, I have been working as CEO of the company, overseeing and leading the company's growth from an embryo of an idea to where we are today. Before starting Atley, I have worked as a Strategy & Management Consultant, Process Engineer, and even as a dock worker at the Port of Gothenburg. 
I received my Bachelor of Engineering from University College London in the field of Biochemical Engineering, and I also studied Knowledge-based Entrepreneurship at master's level at the University of Gothenburg. 
Outside of work I play the bass in a band, play team sports such as football and rugby, and enjoy the cinema.